Review
On December 3, 2010, we ran the numbers for Netflix,based on the work of Edson Gould's Speed Resistance Lines, to determine what the downside risk might be for the stock. The projected downside targets are illustrated below: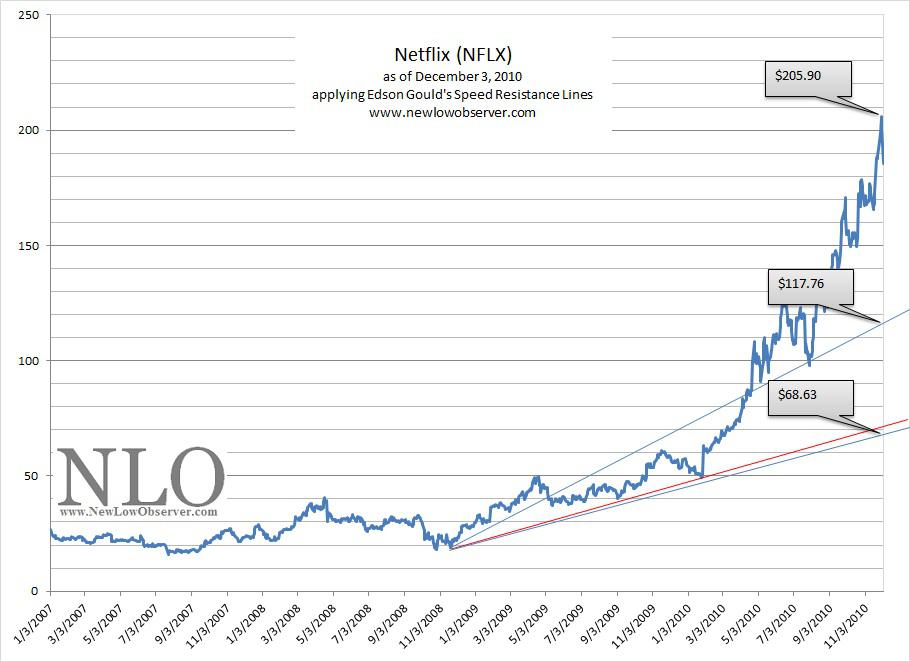 Not long afterwards, Netflix stock price soared from $185.45 to $300. However, the goal of our site is to determine downside risk and the rise in the stock price of was of little interest. Our view is that if we missed an investment opportunity then we will consider investing only if the stock declines to any of the anticipated downside targets.
Naturally, there was considerable opportunity that we missed on the way from $185 to $300. However, our rule is to seek values and from our experience all quality companies become undervalued at some point. Finally and for numerous reasons, Netflix declined from the peak of $300 to as low as $53.80. Naturally, we were able to pick up shares of Netflix at $62, a price we felt was reasonable at the time. Our critical review of the downside targets allows us to accept our purchases for the long-term in case we happen to be wrong about the short-term upside prospects.
October 15, 2014: Netflix Downside Targets